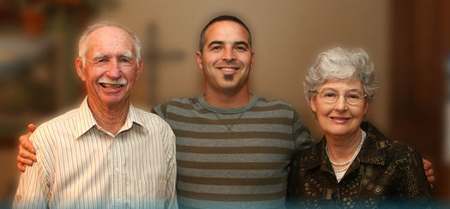 Seven Spirits of God Within
The Seven Spirits of God Ministry team is a Father, Mother, Son combination at the time of this writing. Clauddell is the 76 year old principal teacher and has been married to Shirley for 52 years. Together they raised two daughters and one son. Kevin, their son, is 35 years old and an accomplished musician and worship leader at More Church here in Amarillo. He serves under the mentorship of Kevin Prosch and has branched out now in producing his own music CD's. Kevin was a two sport varsity athlete at Randall High School and qualified for the State Wrestling tournament held in El Paso, Texas in 1993. He is married to Alexis Line Wright and they have two daughters and one son.
Clauddell and Shirley are also blessed with five other grandchildren and four great grandchildren. Their youngest daughter, Karen, lives in Tulsa, Oklahoma and is a Rhema Bible School graduate. Her husband, Terry Williams, is an ORU graduate as well as a Rhema graduate. He currently operates his own business in Tulsa and the family is word of God based and a light to the community where they live.
Clauddell is a graduate engineer from Oklahoma State University where he was a three year letterman on the Cowboy Wrestling team. He was a team member of the NCAA Championship teams in 1956 and 1957. The discipline learned on the wrestling mat, and in making weight, prepared Clauddell for a fasting life style in walking with the Lord.
Clauddell and Shirley have operated their own business for over fifty years after serving in the Army Corp of Engineers as a 2nd Lt. Clauddell Wright Construction company is the website of their family business and shows a little of what they do for a living. Shirley does all the bookwork and makes the weekly payroll. Kevin works as both project manager and job superintendent as needed. He is taking over more and more as Clauddell prepares to spend more time in the ministry of the Word of God. The analytical training learned in the School of Engineering taught Clauddell the importance of getting every word on a subject, whether it be building design, theology, law, or any other matter. In days to come look for some liberating Truths to come forth through this website as Clauddell shares about the unsearchable riches of the Lord Jesus Christ and Gods beautiful plan for man.